Air Conditioning and Heating Installation in Orange County
Leading HVAC Supplier Team in Orange County
Of all the companies that offer air conditioning installation in Orange County, most are unreliable and inexperienced. Their products and service quality isn't worth the cost. On the other hand, Nexgen is the most reliable HVAC company in Orange County. Through our hard work, dedication, and excellence, we are proud to be able to say we are the #1 HVAC company in Southern California.
If you are looking for a professional yet trustworthy HVAC company for any heating and air conditioning needs, Nexgen is here to help.
Choosing an Air Conditioning System for your House in Orange County
If you already have an air conditioning unit and need a reliable company for air conditioning repair in Orange County, Nexgen is here for you. If you are looking to purchase and install a new system, we've got you covered here too. There are a few factors to consider before choosing an air conditioning unit that is right for your home. By walking alongside you, our experienced representatives will impart their HVAC knowledge to you so that you can make an informed decision and the right choice!
First, you need to decide what size of the air conditioning unit is necessary to cool or heat the desired space. The sizing of your air conditioner refers to the BTU (British Thermal Units) or the capacity of a specific unit. The requirements for your HVAC BTU depends on several factors:
The square footage you want to cool/heat

Number of windows in the space

Amount of insulation

Type of insulation

Level of leakage in the home

The number of rooms and people in the home
Getting a unit with the right BTU makes a difference in the efficiency of your unit, and it's lifespan. A unit with too little BTU level will struggle to reach the desired temperature and will have to work to maintain it continuously. However, a unit that has a higher BTU level than recommended will cool the space quickly, cycle off, yet have to cycle on again to maintain the desired temperature.
The second step is choosing a SEER rating for your air conditioning unit. A SEER rating measures the energy usage efficiency of your unit over the duration of a cooling period. In general, the higher the SEER rating, the higher the level of efficiency. It's important to know what SEER rating will work best for you because cooling systems don't always operate at their full SEER potential. This makes it more cost-effective to get a new A/C unit with a lower SEER rating. At Nexgen, our HVAC technicians can help you determine the best BTU level and SEER rating for your Orange County home.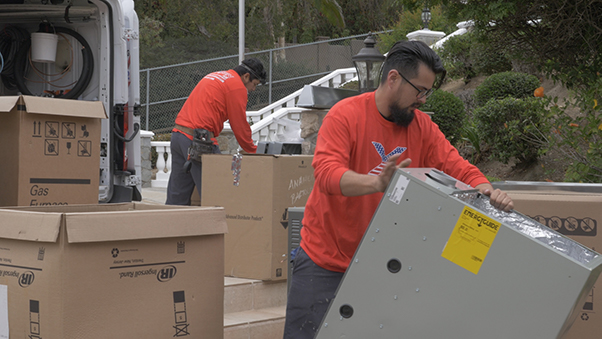 View Our Current Deals & Offers
Nexgen is proud to offer specials that help our customers save money on their home services. Check out our current offers and find the deal that best suits your needs. Find promotions for air conditioning, heating, indoor air quality, plumbing and more!
How to Pick a Heating Unit for your Orange County Home
When choosing a heating system for your home, you'll want to consider your climate and your home's insulation. Moderate climates have different heating needs than a home that's buried in the snow every winter, and without proper insulation, your money could go to waste. If your existing heater uses energy at an unreasonably high rate, our heating inspection in Orange County will offer a diagnosis of the problem and solutions is available.
It's also important to consider the type of heating system you need to heat the desired space efficiently. Central heating systems, like furnaces and heat pumps, have unique aspects that can serve best if you're looking at heating an entire home or an ample space. There are also direct heating options, like gas or electric space heaters, that are good for heating a single room or a smaller area.
There's no better place to go for a reliable and durable heater system in Orange County. At Nexgen, we supply the best units on the market and offer a lifetime warranty on each installation. Our team is at the top when it comes to the installation, maintenance, and repair of HVAC systems. We're confident you will come to understand why we are the #1 HVAC company in Southern California. Our dedication and commitment to our values drive our team to excellence, so you can rest assured in a successful installation every time.
Orange County
700 N. Valley Street, Unit K
Anaheim, CA 92801
(714) 710.7921
More
orange-county

Articles