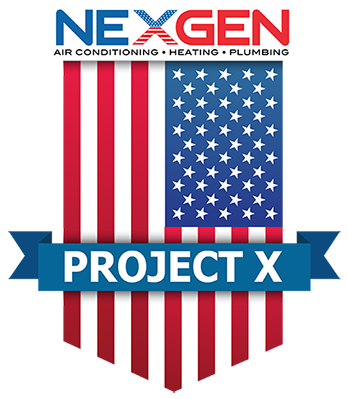 Learn more about our Military Appreciation Program
Project X

Giving Back to the Community
Project X is Nexgen's celebration of our community involvement. We understand the value – and necessity – of giving back to our community. Nexgen supports both local and larger projects that protect, honor, and improve our community. We stand by our commitment to being the next generation in home comfort!
For all of our philanthropic and community endeavors, you'll find all of our press and pictures here.
Navy Chief Rachel Chapman
Navy Chief, Rachel Chapman and her husband Cole, a Navy veteran, have been without an air conditioning system since October 2018. Within that time, Cole has experienced two accidents, the first in 2015 which left him with the loss of both his legs, and the second within two weeks of Rachel contacting Nexgen, which left him with a broken back and a broken hand. While in the hospital, his family lost his income and did not believe they were going to have an AC system for the summer, until Rachel heard about Nexgen.
The decided to shoot them an email asking about pricing, just to see what her family can do before the summer heat hits. A week later, she received a call that her family had been selected for our Project X Program. While Cole was still in the hospital, Nexgen came out and installed a brand new AC system for Rachel and her two little girls. The girls wanted to surprise their dad and called him right after the installation to tell him the good news!
Now Rachael's family will be cool and comfortable this summer and for many summers to come.
Thank you Rachael and Cole for your service! Enjoy your new system!
Choose a story.

Learn about how Nexgen gives back to the community.
Military Appreciation Program
In honor of all veterans who served the United States of America, stood on the front lines, and put their life in harm's way…

Nexgen is proud to present our Military Appreciation Program (MAP). This program will allow us as a team to donate 4 systems a year to veteran households!
America is the land of the free and the home of the brave! We know that this wouldn't be possible without the dedication of our veteran soldiers who fought to preserve our freedom and this great country.
To nominate a worthy candidate or apply, simply fill out the form below and tell us about your time in the service. Our first drawing took place in December 2016 and hasn't stopped since.
Good Luck!
Recommend a Veteran for our Military Appreciation Program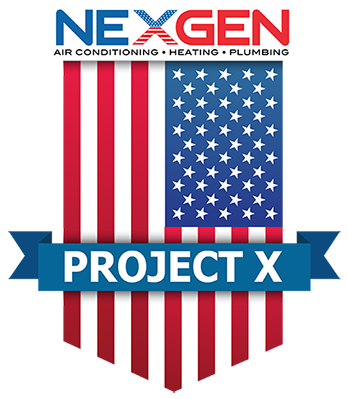 Thanks for visiting!
Nexgen provides a wide range of HVAC services to homeowners all throughout Southern California. From air conditioning and heating, to plumbing and indoor air quality, and even more! Nexgen serves Los Angeles County, Riverside County, Orange County, San Diego County and Ventura County.