CHAPTER 4
The Best Smart Thermostats And Comparisons

There are many different smart thermostats on the market. To help you decide on a device for you home, here is an overview of some of the best ones now available to blend in with your smart home ecosystem.

EcoBee4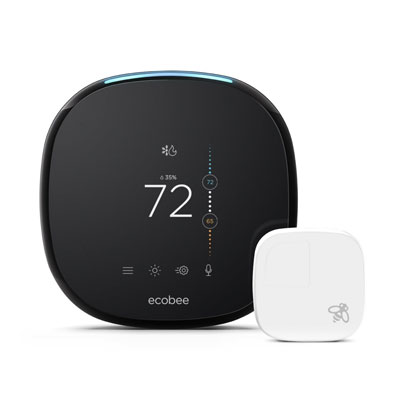 An update of the Ecobee3, this Amazon Alexa-enabled Wi-Fi thermostat can provide temperature control based on your home's energy profile or the current weather conditions. It also knows whether your home is occupied or not. A room sensor is included with the unit and you can add more to monitor and regulate temperature in different areas of your home. With its unique design and functionality, the EcoBee4 has been found, on average, to save about 23% on energy annually.

EcoBee4 is compatible with other brand-name devices and has a responsive touchscreen. Integration of the Alexa virtual assistant is a unique feature (many other smart thermostats, especially older ones, simply work alongside the assistant). Having Alexa built in means you can control this voice-activated thermostat with verbal commands. Plus, EcoBee4 is compatible with Apple HomeKit, Samsung SmartThings, and IFTTT.

Nest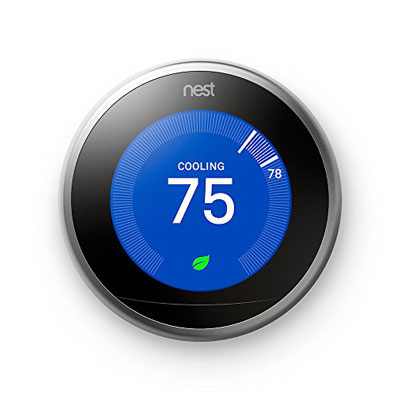 The Nest Learning Thermostat, now in its 3rd generation, is not only cool to look at, but integrates a range of automation features. It can program itself by learning how you use your heating system. If you're not home, the device adjusts the temperature automatically. It is the perfect addition to your home automation system and even provides insights into energy efficiency with the "Nest Leaf", which indicates whether an energy efficient temperature has been reached.

The thermostat is also easy to set up. From unpacking to activation takes about a half an hour. Built-in sensors can track your location, movements, and habits and associate them with the time of day (the unit even lights up when it senses you are nearby). It automatically creates a temperature schedule and can fully program itself to your routine within a week. With Home/Away assist, the thermostat lowers the temperature when a home is unoccupied, while a dedicated IFTTT channel with applets further enhances automation by reacting to specific triggers.

Nest also works with products such as Nest Cam and Nest Protect to enhance home automation. In addition, it is compatible with Amazon Alexa and Google Home so you can add voice control to the product's already broad set of features. And, like with many other smart thermostats, the Nest Learning Thermostat can be controlled remotely using your phone or tablet or via the internet.

The slim-designed thermostat features a sharp LCD, works on electric or battery power, and connects via Wi-Fi and Bluetooth LE.

Honeywell Lyric Round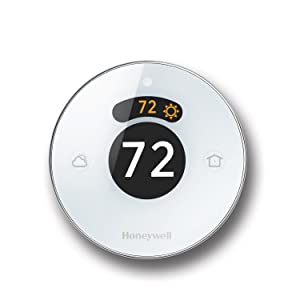 The Round® Smart Thermostat adjusts temperature and humidity automatically based on your location or whether you're home or not. It is ENERGY STAR® certified and will even notify you when maintenance is needed, such as changing the air filter. The thermostat works with numerous virtual assistants and is controlled via the Honeywell Home App, which incorporates heating/cooling control, security, and water leak detection on a single dashboard. Fully supporting smart home integration, the product also delivers activity alerts and geofencing capabilities.

Using temperature and humidity data, the device's "Feels Like" temperature function helps achieve optimal comfort levels. The thermostat also has adaptive recovery, which learns how long it takes to reach a specific temperature, so it can adjust settings and switch from heat to cool automatically. It can also control indoor air quality systems such as humidifiers and dehumidifiers. Custom short cuts can be created for recurrent events so you can change settings with just one touch.

Mysa

Mysa is a smart thermostat designed to work with electric baseboard, electric fan-forced, and in-ceiling radiant heaters. Compatible with Alexa, Google Assistant, and Apple HomeKit, it can control electric heating systems up to 3,800 watts. Four or more wire are required to connect it. But once the device is installed, you can control home heating from your smartphone and manage multiple thermostats, in multiple homes.

The Mysa smart thermostat is perfectly suited for DIY installation with high and line voltage heating systems. It can be up and running in 15 minutes. When it is connected to the app, you can track energy usage via intuitive charts. Scheduling, zone control, geofencing, and vacation mode functions are included as well.