Ultimate Guide to
Smart Thermostats
You may not realize the value of your HVAC system until the AC goes out
during a heat wave, or there's no heat on a frigid winter evening.
Smart thermostats are among the most important elements of the modern smart home. They continue to improve and are here to stay, as the technology continues to increase in popularity. After all, who doesn't want optimal comfort and to reduce energy consumption, have convenient remote access, and achieve smart home automation at an affordable price? In this guide, we'll show you what smart thermostats are and what they can do, cover key benefits and features, explain where to install one, and showcase the best models on the market.
Chapter 1
Introduction to Smart Thermostats
Connected devices can include just about any appliance, light, entertainment system, or HVAC component. Nonetheless, a smart thermostat may be the most important and have the greatest impact. It can allow you to control the climate of your entire home whether you are sitting on the couch, at work, or on vacation. If you think a traditional thermostat or even a more recent programmable one was enough, here are insights that may change your mind.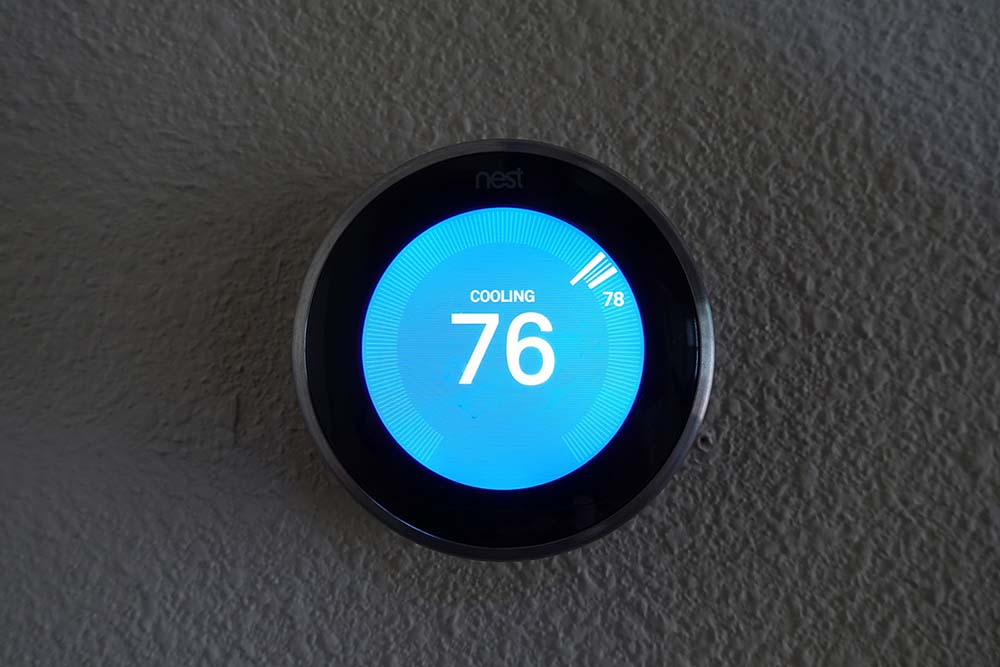 What Is a Smart Thermostat?
A smart thermostat is a device that can control the temperature, humidity, and/or airflow of your home remotely. The latest models are the ultimate smart devices. They are more reactive, rather than performing based on your every command, and can connect and communicate with other smart devices in your home to provide temperature/humidity control when and where it is needed.
Also, a smart thermostat provides insights into climate conditions and energy usage in your home, whether from its intuitive interface or on a smartphone app. It is "intelligent" in every sense of the word. From reacting to your movements to remembering heating or cooling patterns, to so much more, a smart thermostat offers a whole new level of control. The internet of things literally comes to life in terms of ensuring your home remains comfortable and energy efficient.
Traditional thermostats only let you adjust the temperature or heating ranges manually. The system would then operate until reaching the desired temperature before shutting off or running to maintain it. Some would let you set a time frame for certain temperature settings as well. Setting a program was as technical as things would get. It was up to you to react to the temperature; now the temperature can literally react to you!
Capabilities/Features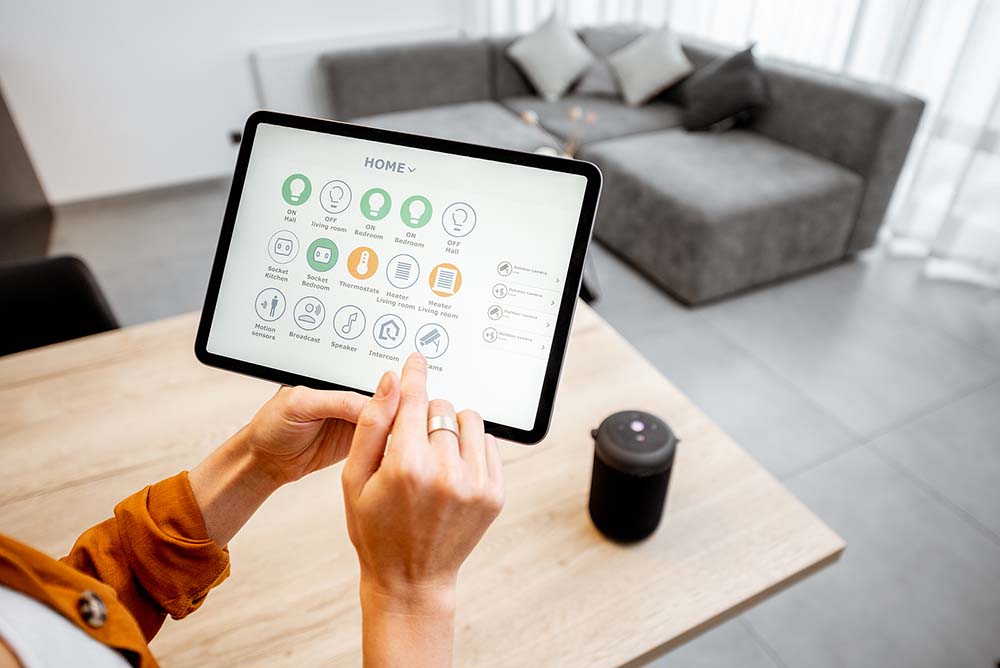 You can still create different temperature settings if you want. There's also the unique ability to manage settings from a remote control, tablet, or smartphone using a mobile app. But you don't need to fiddle with the controls if you don't want to; the system can actually determine the best temperature for your house or an individual room based on time or whether someone is home.
Other general capabilities found in modern thermostats include:
Adaptability: A smart thermostat can adapt to your habits and anticipate when you'll need a certain comfort level in a particular room—whether on a daily, monthly, or seasonal basis. This occurs automatically as you come and go, adjust the temperature throughout the day, or as seasonal weather and climate conditions change.
Smart Integration: By communicating with smart devices, usually via Wi-Fi, the thermostat can react to input from other devices such as smart cameras, motion sensors, door sensors, or proximity sensors, just to name a few. This creates a fully integrated system that creates an ideal environment for you and all other occupants of your home.
Voice Control: The ability to connect your thermostat to Amazon Alexa or Google Assistant means your HVAC system can be voice activated. You may also be able to configure and control your A/C via Apple HomeKit. The smart thermostat will respond to your exact voice commands without you having to touch anything.
IFTTT Integration: An "If This Then That (IFTTT)" web-based service allows you to program a thermostat to react to external factors, such as a weather forecast for cooler weather. The thermostat reacts to data input even if you haven't turned on the news or are otherwise unaware of conditions that may affect your comfort.
Alerts: A smart thermostat is designed to keep temperatures within an acceptable range. If there are changes that fall outside this range, the thermostat can send you an alert. Once you set the parameters or the unit automatically programs itself, alerts will be generated as soon as there's a change in HVAC operating conditions, or there's a maintenance or mechanical issue.
High Voltage or Low Voltage
When selecting a smart thermostat, it's important to consider models that are compatible with your HVAC system. Since low voltage and high voltage heating systems operate differently, you'll need an appropriate thermostat based on the system installed.
Low voltage heating/cooling systems are most common in North America. These include central air conditioning systems, furnaces, and boilers that run on 24 V circuits. Honeywell Lyric, Ecobee, and Nest smart thermostats are compatible with low voltage HVAC systems.
Some homes in the U.S. and Canada use high voltage heating systems. These are most prevalent in northern American states and in Canadian provinces like Quebec or British Columbia (one in 10 U.S. homes and one in three Canadian homes are high voltage). Mysa smart units are compatible with high-voltage baseboards.
To identify the type of system a smart thermostat is compatible with, check the product description online or the label on the package.
Sources:
Chapter 2
Smart Thermostat Benefits and Features
In today's smart homes, you don't have to get up and adjust your thermostat to change the temperature. But there's much more to smart thermostats. Here is a more detailed look at their benefits and some features that contribute to the added convenience.
Cost-Effective: In most cases, smart thermostat are no more difficult to install than a traditional model. They are also relatively affordable. With the right programming, you can save a couple hundred dollars a year on energy costs. And depending on the model and brand, you can recoup its cost over time. Nevertheless, sophisticated units with more advanced functions may be worth the investment, so consider your needs and budget carefully.
Easy Programming: User interfaces are designed to be easy to operate. You can program temperature and timing settings manually if you want or create a schedule. The device will stick to it automatically. Even an entry-level model will serve this purpose. Higher end smart thermostats can auto-schedule heating or cooling by learning your preferences and recognizing patterns, right down to individual rooms in your homes, using built-in sensors and other intelligent Some GPS, RFID, or Wi-Fi enabled systems use geofencing, or a perimeter around your home, to detect when you are arriving. This enables them to adjust settings automatically.
Save Energy: One of the greatest advantages of owning a smart thermostat is saving energy. Energy savings are achieved by cooling/heating a room to the desired temperature when you are there. When you go away, the system makes the appropriate adjustments, so no energy is unnecessarily wasted and you'll have a lower energy bill. A smart thermostat knows when you are home, using data from various sensors and devices, so provides temperature control based on learned patterns and schedules.
Accessible from Anywhere: Whether you are at work or on vacation, you can check your smart thermostat to see if the heat wasn't accidentally left on. You can also turn it on before you get home. A variety of metrics can be viewed from a smartphone app; with web access, you can see the exact temperature and humidity of specific rooms and set them however you want.
Smart Tracking: You can track the amount of energy your home uses every day. With an overview of usage and trends, you can create a more energy efficient plan. If your home is warmer or cooler than it should be, an alert can let you know to check for reasons for increased energy usage, or even suggest corrective actions. Your thermostat may even let you know it's time to change the air filter.
No Mistakes: With the ability to learn your preferences, a smart thermostat provides a high level of control that avoids worrying about forgetting to make adjustments. Your thermostat can even sense when nobody is home even if you haven't programmed it to raise or lower the temperature. If you plan to be on vacation, just set the unit to vacation mode at the press of a button.
Sources:
Chapter 3
Smart Thermostat Placement
If you're new to smart home technology, a smart thermostat is a good place to start. But aside from choosing the best model for your needs, it's essential to place the unit in the right location. The best spot is in a frequently used room. However, a few areas may be suited for your smart thermostat: These include:
Where Your Current Thermostat Is: It may already be in the best spot in your house. If this is sufficient for heating and cooling your entire home effectively, there's no need to change locations. But if it's not the ideal location, consider installing the thermostat somewhere else. In this case, you may need a professional to install new wiring.
An Interior Wall: On or near an interior wall is a good place for installation, as it's easier to get accurate readings. An exterior wall is often not suitable because it may be poorly insulated. This can lead to exaggerated readings that cause the unit to waste more energy.
Unobstructed Areas: A door, bookcase, or appliance can interfere with a smart thermostat's Wi-Fi connection, blocking communication with motion sensors and other components. There should be a clear view between the thermostat and any sensor or device it's linked to. A clear line of sight will enable it to function properly.
Wireless Connectivity: Check the signal strength of your Wi-Fi before installing a smart thermostat in any location, even if it looks like a good area. The signal must be strong enough for it to stay connected with wireless components, so that the thermostat receives the information it needs and its software can be updated.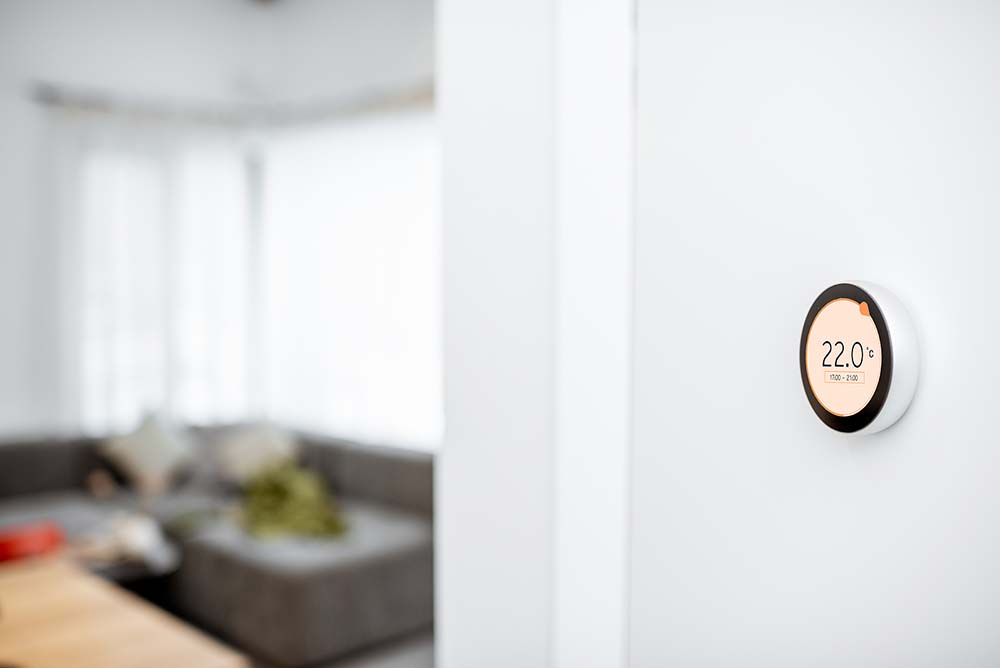 Unsuitable Smart Thermostat Locations
There are also areas you shouldn't put a smart thermostat. Placing it in direct sunlight can cause false temperature readings. For example, a unit installed near a window or skylight may misread internal temperatures, sending erroneous signals to your home heating or cooling system.
Warm sunlight can trigger the air conditioner to cool things down when this really isn't necessary. On the other hand, incorrect temperature readings may result in the heater not turning on when it is chilly.
Near an air vent is also a bad place to put a smart thermostat. If air from the vent hits the thermostat, it can skew the temperature readings so that the sensing element reads the temperature as being hotter or colder than it really is. This can result in wasted energy and higher monthly utility bills.
Similarly, don't place a thermostat in the kitchen, where heating appliances are concentrated and the temperature can vary considerably from other rooms. The kitchen is generally warmer so a smart thermostat placed there can turn on the A/C when it isn't needed, especially while you're cooking, when the rest of the house is at a comfortable temperature.
Many people install thermostats in hallways. While a hallway is an out-of-the-way location, it is hard to read the temperature in areas most used; plus, it's often closer to an exterior wall most affected by outside temperatures. In general, placing a thermostat in a hallway leads to inaccurate readings.
Don't place your smart thermostat near a window or door, where drafts can cool nearby air more than the rest of your home. If it's placed near a door that's often opened and closed, temperature readings from outside will affect performance. The HVAC system may cycle repeatedly, and never reach the ideal temperature, while wasting energy.
Why You Need to Install Your Smart Thermostat In The Right Spot?
Proper installation ensures you get the most out of your smart thermostat's capabilities and features. When it is installed in the right spot, you'll be more comfortable rather than sweating in the bedroom, while the basement or an unused space is just the right temperature. For the same reason, you don't want the thermostat to be in a drafty room. Installing the unit in a room you use lets you determine and maintain an optimal temperature.
Finding the perfect location can avoid temperature control issues such as colder or warmer conditions than your HVAC system should be providing. Finally, if you install your thermostat in the right location, you can actually save energy. Reduced consumption can result in lower utility bills each month.
Source
Chapter 4
The Best Smart Thermostats and Comparisons
There are many different smart thermostats on the market. To help you decide on a device for you home, here is an overview of some of the best ones now available to blend in with your smart home ecosystem.
EcoBee4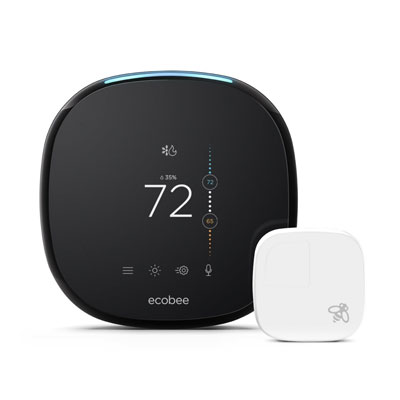 An update of the Ecobee3, this Amazon Alexa-enabled Wi-Fi thermostat can provide temperature control based on your home's energy profile or the current weather conditions. It also knows whether your home is occupied or not. A room sensor is included with the unit and you can add more to monitor and regulate temperature in different areas of your home. With its unique design and functionality, the EcoBee4 has been found, on average, to save about 23% on energy annually.
EcoBee4 is compatible with other brand-name devices and has a responsive touchscreen. Integration of the Alexa virtual assistant is a unique feature (many other smart thermostats, especially older ones, simply work alongside the assistant). Having Alexa built in means you can control this voice-activated thermostat with verbal commands. Plus, EcoBee4 is compatible with Apple HomeKit, Samsung SmartThings, and IFTTT.
Nest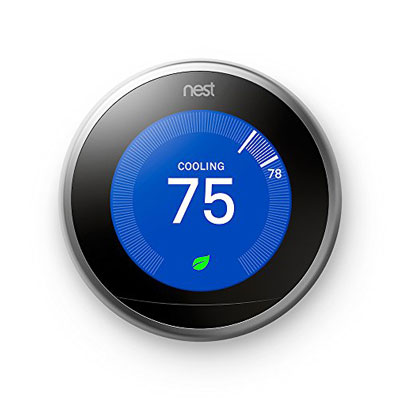 The Nest Learning Thermostat, now in its 3rd generation, is not only cool to look at, but integrates a range of automation features. It can program itself by learning how you use your heating system. If you're not home, the device adjusts the temperature automatically. It is the perfect addition to your home automation system and even provides insights into energy efficiency with the "Nest Leaf", which indicates whether an energy efficient temperature has been reached.
The thermostat is also easy to set up. From unpacking to activation takes about a half an hour. Built-in sensors can track your location, movements, and habits and associate them with the time of day (the unit even lights up when it senses you are nearby). It automatically creates a temperature schedule and can fully program itself to your routine within a week. With Home/Away assist, the thermostat lowers the temperature when a home is unoccupied, while a dedicated IFTTT channel with applets further enhances automation by reacting to specific triggers.
Nest also works with products such as Nest Cam and Nest Protect to enhance home automation. In addition, it is compatible with Amazon Alexa and Google Home so you can add voice control to the product's already broad set of features. And, like with many other smart thermostats, the Nest Learning Thermostat can be controlled remotely using your phone or tablet or via the internet.
The slim-designed thermostat features a sharp LCD, works on electric or battery power, and connects via Wi-Fi and Bluetooth LE.
Honeywell Lyric Round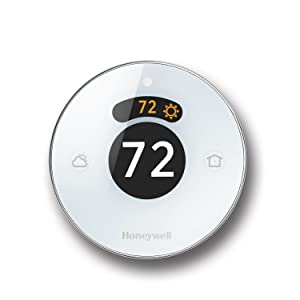 The Round® Smart Thermostat adjusts temperature and humidity automatically based on your location or whether you're home or not. It is ENERGY STAR® certified and will even notify you when maintenance is needed, such as changing the air filter. The thermostat works with numerous virtual assistants and is controlled via the Honeywell Home App, which incorporates heating/cooling control, security, and water leak detection on a single dashboard. Fully supporting smart home integration, the product also delivers activity alerts and geofencing capabilities.
Using temperature and humidity data, the device's "Feels Like" temperature function helps achieve optimal comfort levels. The thermostat also has adaptive recovery, which learns how long it takes to reach a specific temperature, so it can adjust settings and switch from heat to cool automatically. It can also control indoor air quality systems such as humidifiers and dehumidifiers. Custom short cuts can be created for recurrent events so you can change settings with just one touch.
Mysa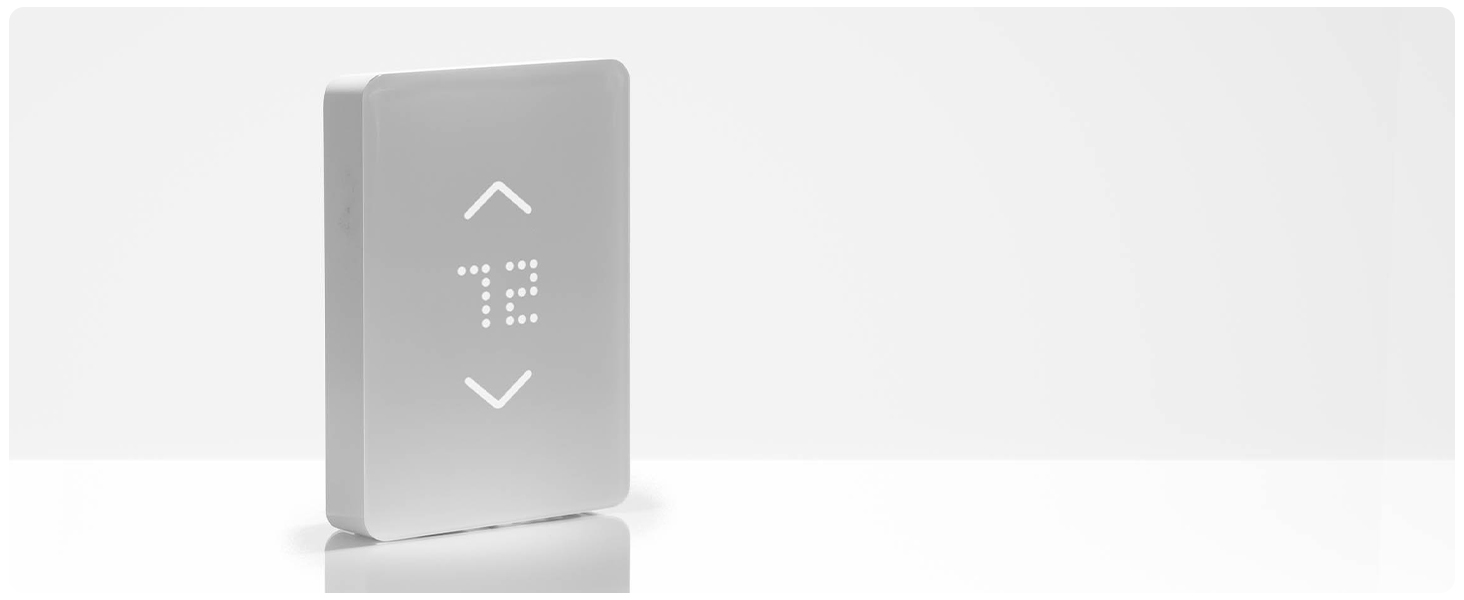 Mysa is a smart thermostat designed to work with electric baseboard, electric fan-forced, and in-ceiling radiant heaters. Compatible with Alexa, Google Assistant, and Apple HomeKit, it can control electric heating systems up to 3,800 watts. Four or more wire are required to connect it. But once the device is installed, you can control home heating from your smartphone and manage multiple thermostats, in multiple homes.
The Mysa smart thermostat is perfectly suited for DIY installation with high and line voltage heating systems. It can be up and running in 15 minutes. When it is connected to the app, you can track energy usage via intuitive charts. Scheduling, zone control, geofencing, and vacation mode functions are included as well.
Other Smart Thermostats
Sensi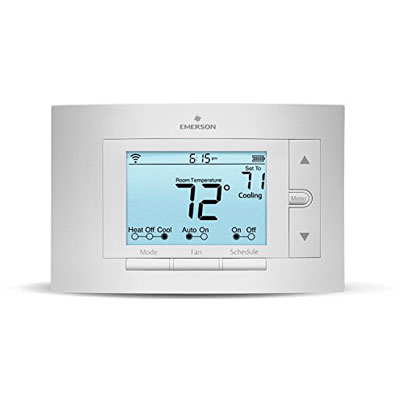 The Sensi Wi-Fi Programmable Thermostat works with just about any type of heating system. Whether you have a gas, oil, heat pump, radiant heat, or geothermal heating system, you can take advantage of its diverse range of features. It works with Alexa for voice control and can be controlled using your smartphone.
Operating on 2 AA batteries, Sensi connects via Wi-Fi to the home network and allows temperature control using an iOS or Android device. Amazon Alexa is integrated as well so you can control the unit via voice commands. The thermostat integrates with the Wink smart home platform as well; using the Wink app, you can pair it with Google Home or Google Assistant.
The thermostat can be programmed on a schedule of up to seven days. A geofencing feature enables the device to provide heating based on who is home and where they are located. Even better, Sensi installs just like a standard thermostat and easily connects to your existing home Wi-Fi network.
Honeywell Wi-Fi 9000 Smart Touchscreen Thermostat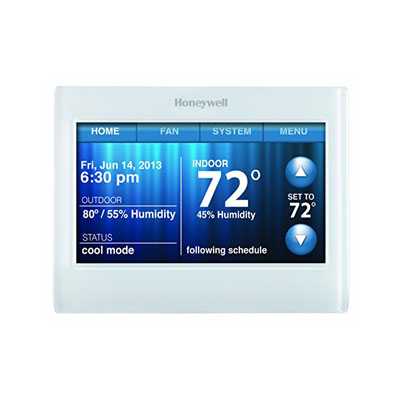 The Honeywell name is attached to some of the best smart thermostats out there. Accessed via a computer, tablet, or smartphone, the Honeywell Wi-Fi 9000 can be programmed to manage temperature and humidity as well as save on annual energy costs. Monitor conditions at home using the Honeywell Connect Comfort App, from anywhere you can access the internet. The unit has a full-color touchscreen display that can be customized in various colors to match your interior décor or preferred level of ambience.
Source
Contact Nexgen to Install Your Smart Thermostat
We hope this overview of the purpose, features, and benefits of smart thermostats, as well as a look at the newest models, have helped you realize how they can help you achieve smart home automation. Nexgen is committed to ensuring customers get the most out of their smart thermostats. Our team is here to educate you on how to select and install one that meets your needs.
Nexgen provides some of the top new smart thermostat models on the market. Whether you prefer Google Nest, the Honeywell Pro 9000, or other unit, our technicians can get you set up so your HVAC system can be controlled remotely with reduced energy consumption. Serving all of Southern California and #1 Rated for Home Services, we also install, repair, and maintain many types of heating and cooling systems, air filters, air purification devices, and water filtration systems.
To learn more about our smart thermostats and other equipment, warranties, and X-Protection maintenance plan, continue browsing or call us at 833-729-9735 to speak directly with a representative. Also, feel free to book an appointment online.