AM11 – CleanFit
Air handler and furnace direct fit, low restriction MERV 11 media air cleaners.
Tight cabinet fit ensuring minimal air bypass
Quick and easy filter change
Dual gasketed door for proper air seal
Reversible air flow - Horizontal or Vertical
Extra deep, 4 1/2 inch pleated filter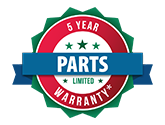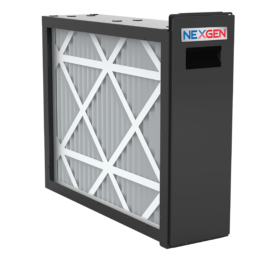 * Warranty doesn't apply to media filter or optional activated carbon VOC filter. Other exceptions apply. *Complete warranty details available from Nexgen at www.nexgenairandheat.com.
Product Features
MERV 11 Media Filter
Rated at 492 feet/minute, removes airborne particles down to 0.3 micron. Filter design features a structured density gradient for sustained efficiency over the life of the filter and is constructed of cellulose-free, hydrophobic polyolefin fibers.
Well Built
Heavy duty, 20 gauge, pre-painted, corrosion resistant cabinet and door. All cabinet mounting holes slotted and designed to lineup with original equipment flanges for time saving installation. Filter frame designed with dual pull tabs for easy removal