CHAPTER 3

How To Improve Indoor Air Quality

Whether you or someone in your home has symptoms or are concerned about indoor pollution, there are steps to take to improve air quality. In order to control sources of pollution, you must:
Identify Specific Air Quality Problems

If symptoms develop after you move into a new home, remodel or refurnish an existing home, or use a pesticide treatment, there may be a potential air quality problem. You can try to identify potential sources of pollution from the air, furnishings, or specific products. Although this may not verify such sources are problematic, it is an important step in air quality assessment.

Also, examine your activities to determine if they are contributing to indoor air pollution. Ventilation problems can also contribute to air quality issues. If the air is stuffy, there are musty odors, moisture is condensing on windows and walls, items are moldy, or HVAC equipment is dirty, your home may require more ventilation.
Measure Pollutant Levels

If you've identified specific pollutants and/or sources, it's time to measure them. Whether you notice health symptoms or signs that ventilation is insufficient, contact a professional or local health department for assistance. They have experience in measuring pollutants, access to the proper equipment, and knowledge of EPA guidelines in conducting measurements.

Radon, formaldehyde, and various VOCs can be measured. A VOC sensor picks up traces of pollutants and tells you how much of a certain compound is present. The results can tell you if the level is above recognized guidelines and presents a health risk. Due to a lack of IAQ standards, it is best to consult with a health agency to determine whether identified indoor pollutants directly caused an illness.
Weatherize Your Home

Weatherizing refers to steps taken to reduce energy consumption related to heating and cooling a home. It usually does not add new pollutants, except in rare cases of caulking that emits VOCs. Installing weather stripping, blown-in wall insulation, and storm windows can prevent outdoor air from infiltrating, per federal recommendations.

When weatherizing a home, indoor air pollutants can become more concentrated. It's therefore important to recognize issues such as air becoming stuffier, moisture condensing on cold surfaces, or signs of inadequate ventilation once you've begun weatherizing a home. If these occur or you find mold or mildew, correct them before continuing your weatherization efforts.
Change Filters Regularly

Air filtration can dramatically improve indoor air quality. But whether you install a whole house or single room filtration system, it is important to maintain the filter. A dirty filter can contribute to pollution and even impede air flow, especially in ductwork.
If you have a central air conditioning system, install a filter with a Minimum Efficiency Reporting Value (MERV) of at least 10 (out of 16). This measures how efficient it is at trapping airborne particles. To maximize the efficiency of a filter:
Make sure it is installed correctly
Clean out dust buildup monthly
Replace it every three months
Operate the central air system with a fan on
Install a ventilation system separately from forced air heating when remodeling
Air Duct Cleaning

Addressing air quality goes beyond cleaning and replacing filters. It must also include cleaning your air ducts and associated components, including grilles, registers, and interior surfaces. If you're not comfortable cleaning your ducts, consult a professional. They know how to access each unique system and also check for leaks and other problems.
Common problems include duct clogs due to dust and debris as well as infestations by insects and other pests. Also, mold can grow on interior surfaces of sheet metal and cause air quality problems.
Cleaning HVAC ducts sometimes requires using specialized equipment to loosen contaminants. A technician may use compressed air, specialized brushes, or vacuums. Fine particles can be removed using continuous negative pressure, which prevents airborne materials from entering your living space. Sanitizers, disinfectants, and deodorizers may also be used on surfaces within your HVAC system.
Cleaning your HVAC ducts regularly can:
Improve Indoor Air Quality: Every contaminant in your home is sucked into the HVAC system and recirculated several times per day. Cleaning ducts can remove these contaminants and mitigate various health issues.
Save Energy: Up to 40% of the energy used for heating and cooling homes is wasted, mainly due to contaminated air ducts.1 Dirt forces the system to work harder, so duct cleaning can reduce your energy bill.
Extend HVAC Longevity: New HVAC systems cost thousands of dollars. If you don't want to replace your system yet, air duct cleaning and other maintenance can add years to its life, avoiding unnecessary costs.
Air ducts should be cleaned every three to five years, according to the National Air Duct Cleaners Association. Action should be taken sooner if occupants of your home have allergic reactions or other symptoms. Always clean the duct system when you move into a new home and/or if it's been three years since the previous owner serviced the ducts.
Other Ways to Improve Indoor Air Quality

Not all air quality improvements in your home require extensive work. Effective strategies, depending on the problem you have, include:
Adjusting Humidity: There is a correlation between humidity levels and some indoor air pollutants, especially mold. If indoor humidity is above 50%, there's a higher risk of mold growth. It should be between 30% and 50%. If your home is too humid, open the windows or turn on the air conditioner. Humidity can be increased if your home is dry by using a vaporizer or humidifier, which can also be adjusted to raise or lower humidity levels.
Ventilation Improvements: The simplest measures include opening windows or adding fans, which can ventilate VOCs from painting or remodeling. Exhausting air from a kitchen can help prevent particles and gases from becoming highly concentrated, while venting a bathroom can reduce water vapor. However, it's important to ensure air being pulled into the room is dry and clean. Air cleaning is often used with ventilation. Not all air cleaners provide effective ventilation, as not all models work for all pollutants. For example, table top units may not mitigate strong sources of pollution. In fact, air cleaning may be ineffective when significant sources of air pollution are present.
Install an Air Cleaner/Purification/Filtration System: Air cleaning devices can be installed when ventilation is limited. Some types, including mechanical air filters (through capture) and electronic air cleaners (use electrostatic precipitators to leverage ionization and electrostatic attraction), can remove airborne particles. Gas-phase air filters use a sorbent to remove gases and odors from air that passes through them.
Other air cleaners use UV radiation for pollutant destruction. These include UVGI cleaners, which use UV lamps to destroy biological pollutants in the air and on HVAC surfaces. Not designed to remove particulates, PCO cleaners use UV light and a catalyst that reacts with light to convert gases into harmless substances. Ozone generators, on the other hand, generate ozone (via UV light or electricity), but don't remove most indoor air pollutants (and can cause lung irritation).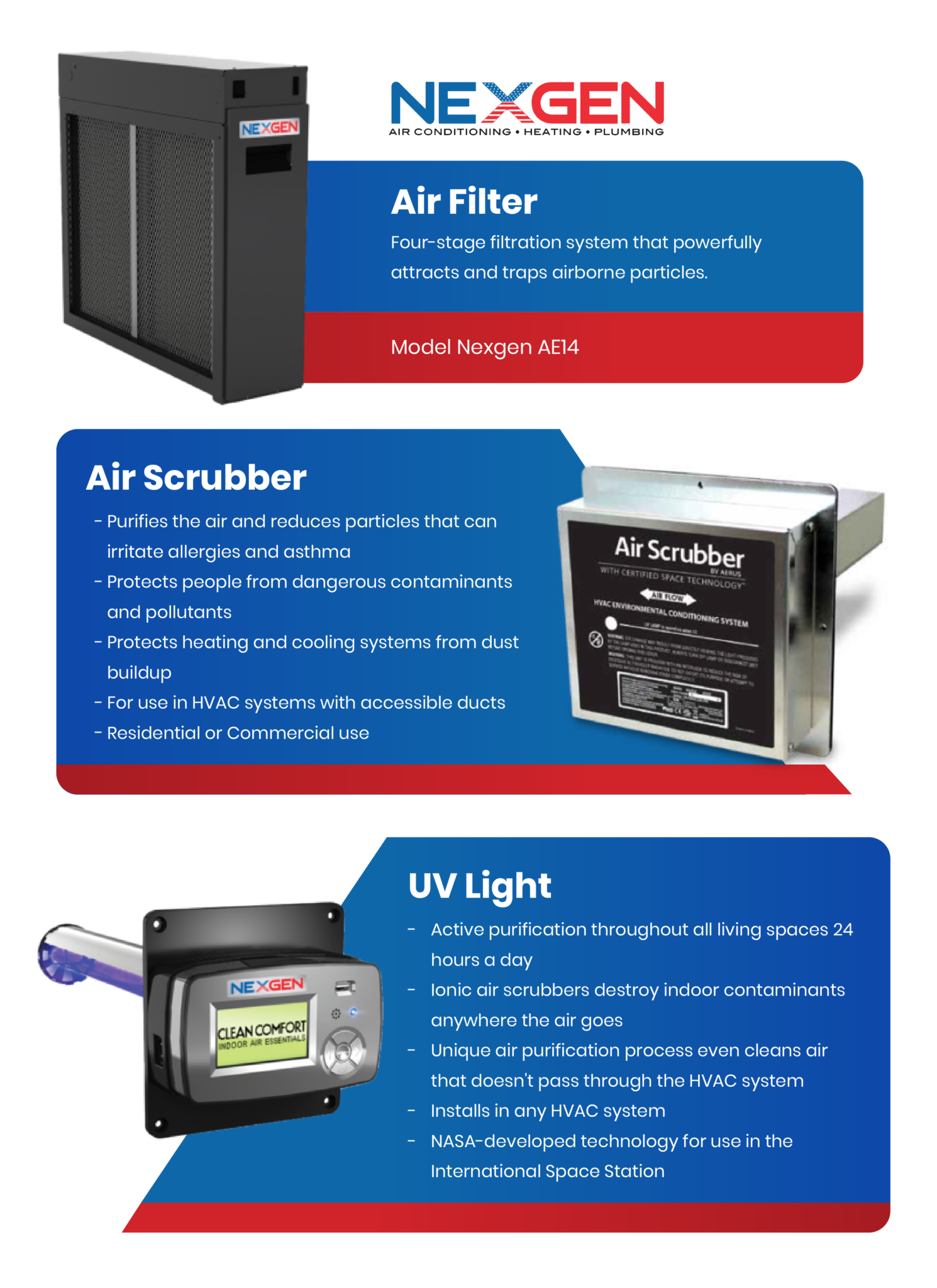 For homes not equipped with a central air conditioning system, portable air cleaners may be used to remove particulate matter. Otherwise, effective air purification and filtration may be achieved with an in-duct particle remover, which can be a flat air filter or panel air filter (MERV 1 to 4), pleated filter/extended surface filter (MERV 5 to 13), and even higher efficiency filters (MERV 14 to 16).

When using air cleaners, it's important to consider installation requirements, costs (including cleaning/replacing filters and electrical usage), and whether the device provides odor removal. Ion generators can leave deposits on surfaces from particles they attract with an electrical charge. With portable air cleaners, noise may be an issue, while those with a fan typically work more effectively.