ARUF
Energy Efficient Air Handlers
Up to 16 SEER
All-Aluminum Coil
SmartFrame™ Sub-Structure
21" Depth for Easier Attic Access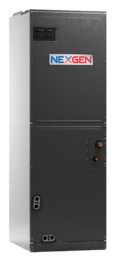 * Complete warranty details available from Nexgen at wwwnexgenairandheat.com. To receive 10-Year Parts Limited Warranty, online registration must be completed within 60 days of installation. Online registration is not required in California.
Advantages
All-Aluminum Coil
SmartFrame Sub-Structure
21" depth for easier attic access
Check flowrator for cooling and heat pump applications
Direct drive, multi-speed PSC blower motor
Cabinet air leakage less than 2.0% at 1.0 inch H₂O when tested in accordance with ASHRAE standard 193
Product Limited Warranty
All functional parts are covered by a 10-Year Parts Limited Warranty*. For a full description of this product warranty, please click on the consumer brochure or product warranty links above.
Additional Information
Before purchasing this appliance, read important information about its estimated annual energy consumption, yearly operating cost, or energy efficiency rating that is available from your retailer.