XDiamond VRV Series
Nexgen is proud to introduce the Daikin VRV IV S-series cooling and heating systems, with Daikin Inverter Technology, available in 3-, 4-, and 5-ton capacities. An intelligent design provides flexibility, independent zoning control, and energy savings as these systems continuously adapt to your heating and cooling needs.
The new series can be adapted to a variety of light commercial and residential applications. Up to 6 indoor units can be connected to the 3-ton system while 8 units can be set up with the 4-ton system. The 5-ton system supports up to 9 indoor units at a time, suiting the VRV IV S-Series for installation in various light commercial and residential applications. Each system runs off a 208-230V, single phase power supply.
VRV Series Features & Technology
Compact and space-saving, the VRV IV S-series systems are silent, so homeowners can enjoy the benefits of quiet operation. Precise temperature control allows every part of every room to be covered while, even under partial load conditions, these HVAC systems are extremely energy efficient. All 36,000, 48,000, and 60,000 Btu/h models run on single-phase technology to further reduce energy consumption. Plus, built-in diagnostics simplify maintenance and help ensure systems are serviced when needed.
Technology defines the VRV IV S-series in many ways.
Innovative technological features of the new HVAC systems include: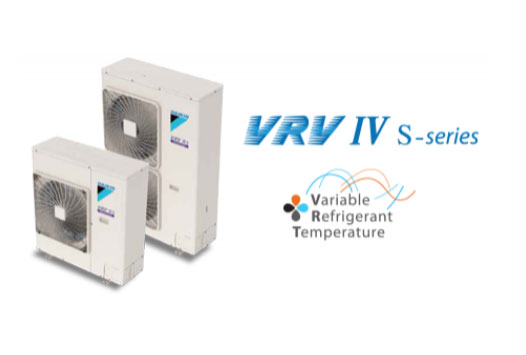 Variable Refrigerant Temperature (VRT):
In Automatic mode (the default setting), a balance of comfort and energy savings can be achieved on hot or cold days, while High Sensible mode maximizes year-round energy savings. In Basic mode that a traditional system runs in, the system reacts to peak load quickly to maintain a setpoint, but doesn't provide the same level of energy saving control.
Variable Speed DC Fan:
Achieves 20% to 40% increases in efficiency over an AC motor, depending on speed and operating conditions.
Blue Fin Corrosion Coating::
The durable hydrophilic coating is 1,000-hour salt spray tested. It is also designed to help defrost the unit when necessary.
Improved Heat Exchange: :
A 7-millimeter coil improves efficiency while a compact casing design helps reduce system size so it can be installed in smaller spaces.
Swing Compressor: :
Is more reliable and efficient while reducing sound levels.
Refrigerant Circuit: :
Cools the inverter board and eliminates condenser fan pressure drop caused by the heat sink installed in previous models.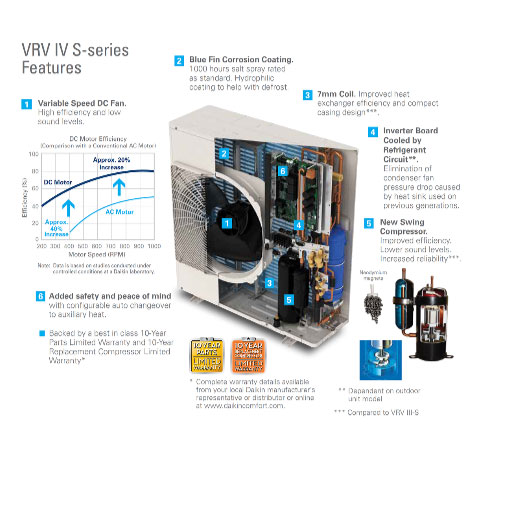 Daikin Inverter Technology
The most important feature of the VRV IV S-series, however, is its variable speed inverter. This intelligent compressor drive module operates much differently than A/C units with only simple on/off modes. A single-stage or two-stage system stops and starts throughout the day, which is inefficient and causes wide fluctuations in temperature from the setpoint.
By contrast, the Daikin inverter continuously adjusts based on the cooling or heating requirements of your space. This takes place automatically. Temperatures therefore consistently stay closer to the setpoint and less energy is used to repeatedly turn the system on and off. The Daikin inverter varies the speed of the unit as necessary, comparable to a light dimmer. Over traditional units without an inverter compressor, this can yield energy savings of up to 30%.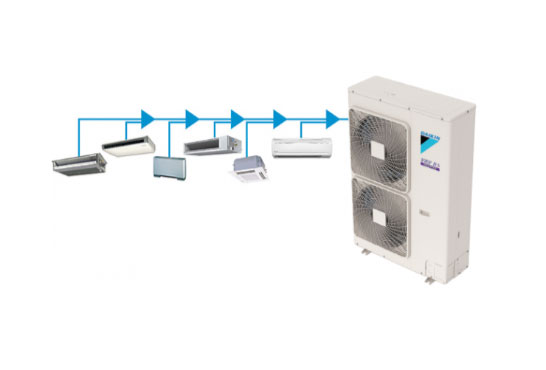 Learn more about VRV IV S-series and Daikin's innovative variable-speed inverter technology by watching the video below:
Commercial & Residential Applications
The flexibility and size options of the VRV IV S-series suits it for wide range of applications, including:
Multi-family residences
Condominiums
Single-family homes
Retail stores
Restaurants
Hotels
Small offices
Schools
Healthcare facilities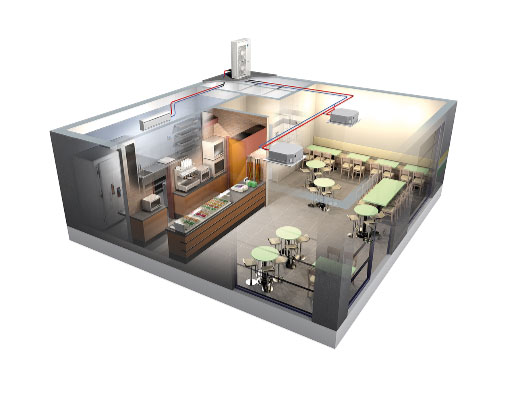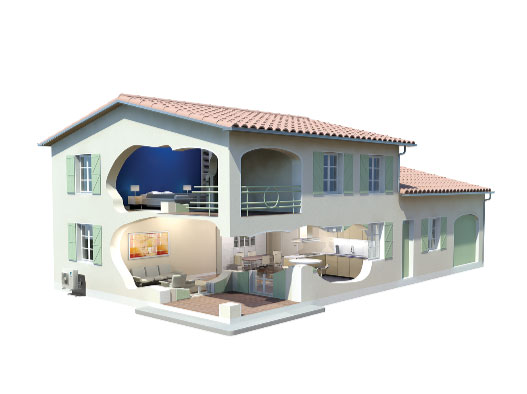 Order an XDiamond VRV Series HVAC System from Nexgen
The Daikin VRV IV S-series is available now from Nexgen with an industry-best manufacturer warranty and in three standard capacities. Contact us today to learn more, get a free quote, or receive help in choosing the system most suited for your home or commercial facility.