Anaheim Heating Repair, Air Conditioning & Installation
Anaheim Air Conditioning & Heating Repair & Installation
Here to Serve All Your HVAC Needs
Whether you're in need of AC maintenance, heating installation, or furnace repair, you can call on Nexgen for the best HVAC company in Anaheim. We tackle all types of heating and cooling services for our customers. You can count on us for top-notch service paired with excellent customer support. As a family owned and operated company, we care about the level of service and support we provide our customers. That's why our HVAC services are backed by our thousands of 5-star reviews from satisfied customers and numerous Yelp awards over the years.
When you need expertise you can rely on, trust the job to our HVAC technicians. We work closely with our customers to ensure they get the personalized heating and cooling services they deserve. From high tech thermostats to air conditioning tune-ups, we make sure to prioritize your comfort and convenience every step of the way.
Trusted Source for Air Conditioning Services
Home comfort is a big deal for most families. Spending a majority of your downtime at home, you likely want to ensure your cooling system is doing its job efficiently and effectively — not costing you extra out of pocket. Nexgen is your solution for reliable air conditioning services ranging from repairs to seasonal maintenance to thermostat control and more.
Check out just a few of our cooling services:
AC installation
Nexgen offers a broad range of air conditioning units, including ductless mini splits, central air conditioning systems, window units, and more. We'll help you decide which options make the most sense for your cooling needs.
AC repair
Our Anaheim AC repair technicians have helped countless homeowners get their cooling systems up and running in no time at all. You can trust even the most complicated air conditioning concerns to us with confidence!
AC maintenance
Especially before the summer heat sets in, you'll want to have your air conditioner inspected and tuned up. This allows you to have peace of mind when you need it most. Leave your AC unit in the hands of the expert technicians here at Nexgen! We'll make sure your unit is performing at top efficiency.
Smart home services
Want to make your home HVAC system even more efficient? Considering upgrading your thermostat to a Nest for optimal control over your cooling and heating usage. We can help you elevate your house to be a fully innovative smart home, complete with everything from security cameras to smoke detection to thermostat control.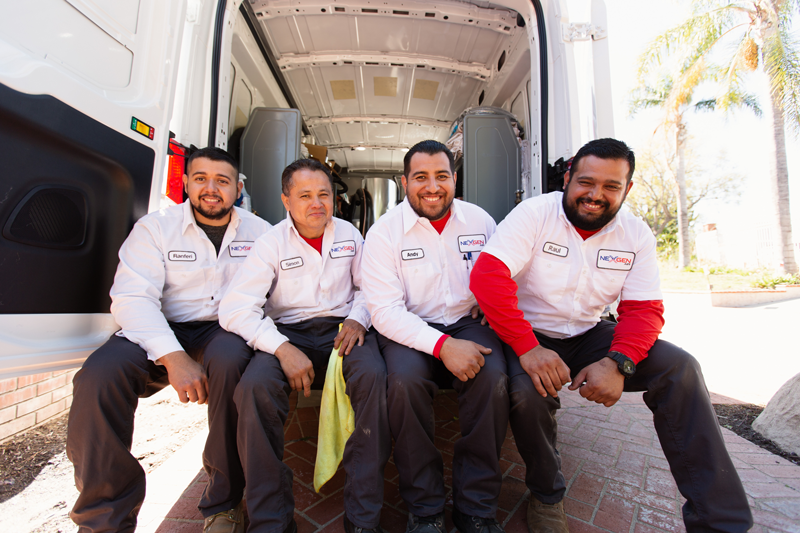 View Our Current Deals & Offers
Nexgen is proud to offer specials that help our customers save money on their home services. Check out our current offers and find the deal that best suits your needs. Find promotions for air conditioning, heating, indoor air quality, plumbing and more!
More than 17,950 customers chose to trust their home HVAC services to Nexgen last year — join the ranks of happy customers today when you call on us!
Handling a Range of Heating Services
Looking for heating repair in Anaheim you can rely on? Look no further! Nexgen has you completely covered when it comes to keeping your home warm and cozy in the winter months.
You can call on our team for the following heating services:
Heater repair & maintenance – When you're frustrated with your heater not performing efficiently or can't seem to get your furnace working correctly, it's time to call on Nexgen. We are available 24/7 to help with any heating repair emergency or just regular maintenance whenever you need.
Heater installation – Time to upgrade to a new heater? Whether you're deciding between a heat pump and a furnace, we can help you get the right unit installed in your home.
Water heater installation – We offer cutting-edge solutions for your water heater needs, including tankless water heaters. We'll review your options and help you decide on the best type of water heater for your home size and budget.
Breathe Clean Air in Your Home
You deserve to be able to breathe clean air in your own home, which is why Nexgen is here to provide the indoor air quality services you need. We are dedicated to giving our customers comfortable and healthy indoor living environments. Did you know that poor indoor air quality can lead to difficulty breathing, irritation to the eyes, dizziness, fatigue, and other more serious health risks?
Some homes may suffer poor air quality due to asbestos, gas emissions, dust, mold, pollen, pet dander, toxic spores, and other threats. Our team can do everything from sealing air ducts to prevent harmful airborne particles from invading and contaminating your home to cleaning ducts and installing a whole-house air purification system.
Offering Home Insulation Services
Even if you upgraded to a top-of-the-line HVAC system, without quality home insulation, you could still be dealing with inefficient heating and cooling. That's why proper home insulation is so important. Nexgen can help you save on your monthly utility bills by improving your home insulation, helping you stay cool in the summer and cozy during the winter time.
By adding more insulation to those exterior walls, your home can be set up to have more moderate temperatures, cause fewer fluctuations and providing more consistency year-round. Similarly, insulating crawl spaces can help improve floor warmth and attic insulation can help better regulate indoor temperatures, preventing cool air from escaping in the warmer months and warm air from being released when you need it during chillier days. In addition to that, having proper air duct insulation can also play a part in improving indoor air quality by keeping out unwanted airborne particles and preventing circulation throughout your house.
Call Nexgen for Quality HVAC Solutions
Are you in need of heating, cooling, or indoor air quality services? Nexgen is happy to offer reliable services that are available around-the-clock for our customers. We provide multiple financing options to keep our solutions accessible, free upfront estimates, and give our customers the peace of mind they deserve with our thorough warranties. We know you can't always plan for water heater issues or AC breakdowns, which is why our Anaheim HVAC technicians are ready for emergency services when you need us most. Nexgen is driven to provide customers with more than just a comfortable home, but a safe one as well. When you reach out to our company, you can be confident in knowing you'll get top quality services paired with conscious solutions.
Orange County
700 N. Valley Street, Unit K
Anaheim, CA 92801
(714) 710.7921